Today's Featured Trope
What's not to love about high heels? They're stylish, they make you taller, they shape the legs and produce a unique stride.
Well, as far as she's concerned? Lots.
This character will see them as a tremendous pain in the ass. It's easy to stumble, the heel snaps like a twig, they make your back, legs, and feet sore, and good luck dancing or walking for long periods of time in them.
More
Newest Trope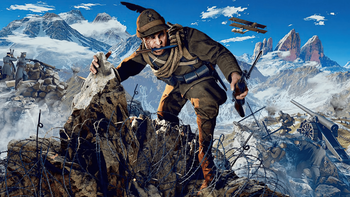 Imagine a Death Mountain. The rough terrain, relative lack of oxygen, snow, and rockslides and avalanches are already deadly to anyone trying to scale the region. Now imagine soldiers not only trying to advance through such a place, but fighting for territorial control over the entire mountain. Combine that with trying to get food, medical supplies, and ammunition up narrow roads and goat trails, and you have a recipe for something deadly to anyone and everyone involved.
More
More Videos
Tropes Community Podcasts
Episode 393: Quick Shot - Remnant 2
August 21, 2023
Is Remnant 2 the first sleeper hit of 2023? How does it improve upon the original game? What are some aspects of the game that really bothered us? We answer these questions and more in this installment of Quick Shot…
More
---
Episode 235: Best of 2021 Part 2
February 24, 2022
The gang discuss more of the best from 2021, and award this year's Golden TropieBe sure to subscribe and rate us on your favorite pod catcher and feel free to support us over at Patreon.com/OnTheTropes! Buy some…
More
---